Guest Welcome Guide and Rules
Welcome! We created this guide for you; click on each section for information. If you have questions, don't hesitate to call. Thanks for joining us! Bill and Lynne Mason
Your payment is acknowledgment and agreement that you, each member of your party, and your guests have read and will follow these Guest Rules, and that you are responsible for any violations reasonably attributable to you, your party, or your guests, of the Guest Rules and any other applicable laws, rules or regulations.
The following information from our website might also be helpful. Clicking on one of the links below will take you out of the "Guest Welcome Guide and Rules". To return, use the back arrow.
CHECK-IN/OUT & PARKING
NEW! CONTACTLESS CHECK-IN/OUT: Go Directly to your cottage. Address for GPS on "Directions & Maps" tab.
Check-in is after 4 PM
Access instructions will be emailed to you prior to check-in. Call 518-656-9573 or text (include cottage #) 518-321-2869 when you arrive. If you need extra linens for the sofa bed, let us know when you make your reservation or any time before 1 PM on date of arrival.
Parking
Takundewide has 8 lots; park in lot closest to your cottage. (Property Map). Limit number of cars you bring to 1 car per bedroom for cottage rentals and 1 car per boat space for boat space rentals. Do not drive or park on lawn. If lots are full you may temporarily park on lawn adjacent to driveway just until a spot opens up. Park boats and trailers in designated areas only located on Boathouse Road (Property Map). Drive slowly; children are playing!
Check-out by noon
Call 518-656-9573 or text (include cottage #) 518-321-2869 when you leave the cottage.  While you are here, please keep the cottage tidy and leave it and the grounds in the same condition as when you arrived to avoid cleaning fees.  Additionally, please follow these steps:
Put Takundewide bed sheets and towels in laundry bag provided
Leave blankets, pillows, mattress covers, & spreads on bed for staff to pick up
Remove food from refrigerator, freezer, and cupboards
Take trash out to trash cans; keep it bagged so it is easily removed from pail
Wash dirty dishes. If there is a dishwasher, please start it
Return furniture (indoors and outdoors) to original position
Delete downloaded apps and account information from TV
Check drawers and closets for clothes and personal items (hair dryers & phone chargers!)
If air conditioning is on, set to low or 74 degrees; if heat is on, leave on 65 degrees.
Close windows, lock doors, and leave keys in lockbox (#8 and #10-leave keys on kitchen counter). If you have trouble fitting key in lockbox, please leave on porch table. Keep lockbox code set to code we gave you at arrival. ($200 fee will be charged if you change lockbox code)
Kindly consider leaving a tip for your housekeepers. After checking-out of cottage, you are welcome to stay on Takundewide property for the day. There is a public restroom in laundromat building. After checking out of your cottage, trash is "carry out"; kindly, do not leave in cottage trash receptacles. Thanks for coming! Hope to see you again.
ABOUT YOUR TAKUNDEWIDE COTTAGE
Each cottage is part of Takundewide Homeowners Association and is privately owned and furnished. Do not move items to another cottage, including outdoor furniture and grills. Enter only your own guest cottage and porch. Outdoor furniture for your use is provided at your cottage. Do not take indoor furniture outside. Please don't use your neighbor's furniture, even if it is not in use.
List names of everyone staying in your cottage when you make your reservation. Only registered guests may stay overnight in cottage. The maximum occupancy for each cottage is listed in Cottage Details. Guests may not stay overnight in tents.
Be considerate of neighbors. Do not enter private area around each cottage other than your own. Keep outside gatherings away from neighbor's cottage and pick up "yard" at end of day. Quiet time is 10 PM to 9 AM.
Please note:  Smoking is permitted only outside cottage.
WIFI
Free WIFI throughout your stay. Network and Password are in notebook in your cottage.
TV
Cottage TVs have basic cable channels or streaming devices. Some cottages have smart TVs (see Cottage Details) Sign into any of your streaming accounts but remember to delete apps before you leave.
Kitchen
All kitchens have full-sized appliances. Some have dishwashers (see Cottage Details). We provide a starter supply of dishwasher detergent and more is available at local stores. Do not use liquid dish soap in the dishwasher. A coffee maker with filters is provided. Please bring ground coffee–not K-cups. Kitchens are fully stocked with dishes, silverware, glassware, pots, pans, utensils, toaster, tea pot, pitcher, cutting board and much more. You'll need to bring groceries, including condiments! List of what is included and suggestions about what you may want to pack.
Clothes washers and dryers
Some four-bedroom cottages have washers and dryers. Instructions are in cottages. Onsite laundry room with coin operated washers and dryers is located in the building behind the small playground.  (property map).
Housekeeping
Cottage is furnished with bed sheets, towels for bath and kitchen (for inside use only), cotton summer-weight blankets, pillow (in a protective case under pillowcase) and mattress covers on all beds. If you prefer your own linens, bring your own bed sheets, towels, and blankets from home and we will discount your weekly rate. You may want to pack beach towels, heavier blankets (if you like to bundle up), and extra pillows.
We know accidents can happen; just let us know so we can replace the item so stains don't become permanent.
If your cottage has a sofa bed, (Cottage Details) that you will use for sleeping, linens are available. If you need sofa bed linens for your entire stay and want them in the cottage at arrival, please let us know when you make your reservation or by calling (518-656-9573), texting (518-321-2869) or emailing (info@takundewide.com) as soon as possible but no later than 1 PM on the day of arrival.  If you need linens during your stay, call 518-656-9573 as soon as possible but at least one day ahead.
For Multi-week stays, exchange linens and towels once/week on Tuesday, Wednesday, or Thursday between 9 AM and 2 PM.  Call:  518-656-9573 or email: info@takundewide.com to send a list of items you want to exchange and day you want to exchange. Place used laundry in bag provided and leave on porch. Staff will pick up used items and leave clean items in exchange.
We stocked the cottage with a starter supply of household items such as TP, tissues, soap, and paper towels. Don't forget to pack extra household and personal care items for use during your stay. Click here for list of what is included and some suggestions about what you may want to bring.
Fireplace and Grill
All cottages have fireplace and BBQ grill. Wood for fireplace is available at local stores. Never use charcoal. Open damper before lighting and keep open until fire is completely out. Keep fuel away from fire. Use screen around fireplace to contain sparks. Never leave fire unattended. Staff will remove ashes after you leave.
Some cottages have gas BBQ grill, some have charcoal, and some have both. Check website for information about your cottage. For gas grills, check propane several hours before grilling and let us know if you need refill. For charcoal grills, remember to bring charcoal and starter.
Pets
We love our furry friends, but ask our rental guests to leave them at home. Animals of any size may not enter rental cottages or sleep outside overnight. Animals visiting Takundewide grounds must be leashed and may not go on the beach. Owners must pick up after their animals.
Trash & Recycling
Guests are responsible for removing trash and recycling from cottage during their stay and at check-out. Guests and their visitors may not leave trash or recycling in common areas. There are no pails in public spaces so dispose of only at your own cottage. Boat space rental guest's trash is "carry-in/carry-out."
Three pails are outside each cottage. Use one for recycling: plastic, aluminum, paper, cans, and glass. On pick-up day and at check-out, bag and remove all trash and recycling from cottage. Place bags in pails so they can easily be removed or additional cleaning fees may apply. Stack clean newspaper, cardboard, and paper bags outside next to pails on pick-up days.
Pick-Up Days: Trash is picked up on Wednesdays and Fridays (holiday schedules may apply). Recycling is picked up on Fridays or Saturdays.
Packages, Mail & Deliveries
The Cleverdale post-office is located on Route 9L across the street from the intersection with Cleverdale Road. Mail is not delivered to homes in Cleverdale, New York, so it can be difficult to receive packages here. Avoid sending packages to yourself during your stay but if you must have a package delivered, use your cottage address not our business address. Cottage addresses are included in Cottage Details on our website. Shippers do not recognize "Cleverdale". Cleverdale is in the town of Queensbury, NY 12804 so use Queensbury as the town.
AROUND THE PROPERTY
21 acres, 700 feet of lakefront, sandy beach, boathouse sundecks, playgrounds, and several beautiful gardens are right outside your door. Chaise lounges are available on front lawn and at your cottage for your use.
Private property includes 10 feet surrounding cottage, lakeside yard at Cottages #1, #6, #7 and #8, and yard around The Mason House (including driveway and from The Mason House to Seneca Drive). Please do not enter private property. When gathering at your cottage, please be considerate and keep your gathering away from neighbor's cottage.
All motor vehicles must stay on driveways, parking lots, and roads. Do not drive motorized vehicles of any type on lawn (except as noted for overflow parking). Fireworks are not permitted anywhere on Takundewide property.
Beach
Relax on private, sandy beach. Beach chairs are available. Grounds are "carry-in, carry-out"; no trash cans on common property. Dispose of trash and recycling only at your own cottage; do not use other cottage receptacles. Remove all your possessions from beach after each use. Beach is cleaned each morning and items left on beach are removed. Please do not feed ducks!
Swim in a protected area marked with safety ropes and floats. No lifeguards are on duty and swimming is at swimmer's own risk.
Never swim alone; 2 or more adults must be present when beach is in use.
Children must be accompanied by a parent or guardian.
Swimmers must get on dock when boats are pulling out or coming in.
Boats/jet skis may not be used inside swim area.
Boathouse Sundecks
Capture scenic views and spectacular sunsets from boathouse sundecks. Adirondack chairs and umbrellas are available for your use. To open umbrellas, gently lift spokes. To close, push up on center collar. Make sure to close and tie umbrellas when you leave or when it is windy (including the umbrellas on sundeck at Cottage #8). Do not step on steel cables on outer north sundeck railings. Do not ride bicycles on sundecks. Remove all your possessions from the sundecks after use. Private sundecks at Cottages #1, #6, #7, or #8 are reserved only for the occupants.
Docks & Moorings
Add a dock for your boat during your stay. Use only assigned boat space or mooring (boat space map). Board only your own boat. Do not open private dock boxes. Remove all your possessions from docks after use, including bait buckets, fishing poles, blow-up toys, life-preservers.
Take care not to obstruct access of others when docking. When swimmers are in the area, blow horn before starting boat and make sure swimmers are cleared before backing up. Tie jet skis in assigned boat slips when not in use. Jet skis and boats are not permitted in swimming area.
Docks at Cottages #1, #6, #7, and #8 are private and reserved only for the occupants.
Seasonal Boat Spaces and Moorings are from mid-May to mid-October (exact dates depend on weather). Boat Space and mooring rentals include one parking spot per boat space or mooring and use of the the public restroom. Trash is carry in/carry out. Property amenities and recreation at dock are not included with rental.
Tennis & Pickleball
Tennis/pickleball courts are located at northeast corner of the property (property map). If there are others waiting for tennis courts, please limit play to 1 ½ hours. Bikes and skates are not permitted on tennis courts.
Laundry Room
Coin-operated laundry facilities are in the building behind the small playground. Remove laundry promptly, others may be waiting. Clean up and remove lint from dryer after each use.
GATHERINGS
Gatherings are limited to 10 inside cottages and 25 outside cottages. Gatherings of greater than 25 may be pre-approved by the Takundewide Homeowners Association board of directors. Requests for a gathering should be submitted to the office at least 2 weeks before gathering and must include:
Time and duration (quiet time is 10 PM to 9 AM)
Maximum number of people
Location (gathering may not block access of others to use beach or docks)
If you plan to use a small pop-up tent, include size and location of it.
Groups renting more than one cottage:  please be considerate of neighbors and do not gather at the same cottage every night.
Day Visitors:  rental guests must inform office (518-656-9573) before inviting day visitors to the property.
Town of Queensbury Short-Term Rental law:
Under the Town of Queensbury Local Laws, we are required to inform you that Short-Term Rentals (less than one month) are subject to the following rules:
Quiet hours are 10 PM to 8 AM
The following behaviors are prohibited: Fighting, violence, tumultuous or threatening behavior, unreasonable noise, abusive or obscene language or gestures in public
Under the Town of Queensbury Local Laws §115-5, penalties for violations of any provision of Chapter 115, or any rules or regulations adopted pursuant to Chapter 115, include a fine of up to $950 for each offense and/or a ticket and summons and complaint directing a designated person to appear in court.
You acknowledge and agree that you, each member of your party, and your guests will abide by these Short-term Rental Rules, and you agree that you are responsible for any violations reasonably attributable to you, your party, or your guests, of Chapter 115 of the Local Laws of the Town of Queensbury, and any other applicable laws, rules or regulations.
COVID-19 POLICIES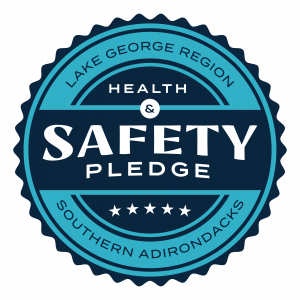 We've taken the Lake George Region "Health and Safety" pledge.
No contact check-in/out, cottage left vacant between guests, and industry cleaning practices and supplies guidelines are followed. Linens, towels, blankets are professionally cleaned between every guest. Extra protective coverings on mattresses and pillows.
Gathering sizes may be limited by NYS.
Unvaccinated guests must follow social distancing practices in common areas.
If you have been sick or in contact with confirmed case of COVID-19 within 10 days, please stay home.
If you develop symptoms at Takundewide, you will be masked and isolated and must leave as soon as possible.
Guests confirmed to have COVID-19 must inform management so others can be told about possible exposure.
Emergency & Contact Information.
Plumbing, heating, lockouts, or electrical emergencies: 518-656-9573 (office) or 518-726-6093 (cell–call or text)
Fire, medical emergencies or other emergencies: 911. Give the following locations:
South Docks, Cottages #10 & #12:  Seneca Drive, Cleverdale (in Queensbury NY)
North Docks, Beach and Cottages #4, #5, #8, #11:  Onondaga Drive, Cleverdale (in Queensbury NY)
Cottages #19, #21, #22:  Cayuga Drive, Cleverdale (in Queensbury NY)
Cottages #13, #29:  Tuscarora Drive, Cleverdale (in Queensbury NY)
The Mason House: 40 Boathouse Road, Cleverdale (in Queensbury NY)
Management Contact Information:  
518-656-9573:  Manager office phone
518-726-6093:  Manager cell phone and text
Info@takundewide.com:  Manager email
Feel free to call or text at any time for emergencies. For other issues or questions, please call, text, or email between 9 AM and 5 PM. We are always available to schedule a convenient time and place to meet with you but no longer have an office for guests to enter. Let us know if you need anything or if something in your cottage or on the property needs our attention.